Feed Suet All Year Long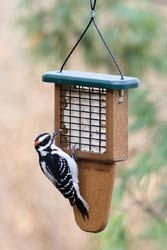 Feeding suet can be a year-round activity. It is fun and exciting to see the different kinds of birds that can be attracted by providing suet. Wild Birds Unlimited's suet is a high-energy fat substance produced from a high quality beef kidney fat, which is high in calories. WBU suet is rendered to help remove some of the impurities that can cause spoilage.
Suet and suet dough allows you to feed the birds year round. Suet is used during cooler weather. In warmer weather suet doughs are designed with a higher melting point.
The variety of suet flavors help to attract a variety of birds. It is especially helpful to birds when their natural food source is hard to find (during winter months) or when the birds are nesting and raising their young. It is fun to watch birds bring their young to suet feeders in the summer months.
All the suets are high in calories from the fat, which is the most important component of the suet. Protein is good if it is high in content, but does not need to be extremely high. Remember that suet feeding supplements the birds' diet; it does not replace their main food source.