Seed Cylinders
Looking for a new and convenient way to attract more birds to your feeders? Our Seed Cylinders are packed with ingredients like pecans, peanuts, black oil and striped sunflower seeds, safflower and fruit to attract a greater variety of birds. Try our seed cylinders on a ground tray feeder, use a wire hanger designed for seed cylinders, or use it in our Dinner Bell feeder. They're delicious to your neighborhood birds.
Stackables: Mix & Match for More Birds
Create Your Own Food Combo and Attract More Birds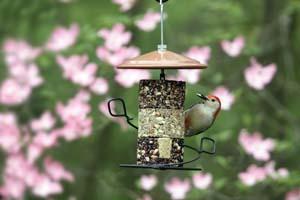 Long-lasting and easy to use, our Seed Stackables allow you to offer more than one food at a time and cater to the preferences of the birds visiting your yard. With several unique flavors of Seed and No-melt Dough Stackables to mix and match, you can have fun creating various combinations that will attract different birds to your backyard.
Made of sunflower chips, peanuts, tree nuts, peanut suet nuggets and cherries, our No-Mess Seed Stackable is a tidy dining option that your birds will enjoy. No shells means no mess and no wasted food, making this Stackable a great value.
Fruit & Nut Seed Stackables are a combination of pecans, sunflower chips, peanuts, blueberries, cranberries, cherries and apples. They are perfect for attracting more fruit-eating birds to your feeding station.
Stackables are only available at Wild Birds Unlimited.
Hoot the Owl Seed Cylinder
It's adorable and available only at Wild Birds Unlimited. Made of black oil sunflower, sunflower chips, peanuts, apples, apricot, blueberries and almonds, our Hoot the Owl Seed Cylinder is a fun addition to any yard. Hoot can help you attract many of your favorite backyard birds, including chickadees, woodpeckers and goldfinches, to your feeders for a meal.
Seed Cylinders are an easy way to offer your birds a wide variety of food to get lots of birds to visit your backyard. And it's convenient, too. Just set one out and watch.
Dimensions: 4" diameter