Welcome to Wild Birds Unlimited Hanover, MA

Right now chickadees, nuthatches, titmice and jays are hiding food to retrieve and eat at a later time. This behavior is called "caching." Caching helps birds survive during bad weather and when food sources are low. These birds can store hundreds of seeds a day. Each seed is placed in a different location and they generally remember where each one is, even a month later.
By providing an easily accessible food source, you can help your birds with their caching needs.
Chickadees prefer to cache black oil sunflower seeds; often eating a small portion before hiding it in and under bark, dead leaves, knotholes, clusters of pine needles, gutters, shingles and in the ground. Chickadees cache more in the middle of the day when visiting feeders.
Titmice are rather particular. They choose the largest sunflower seeds available to eat and cache. Titmice and chickadees like to cache seeds within 130 feet of bird feeders; your yard or a neighbor's yard. Often, they tuck seeds into the bark and crevices of a wood pile or on a large branch. They even cache them under mulch in a garden.
Nuthatches prefer heavier sunflower seeds over the lighter ones. Be sure to have some sunflower chips in your blend, too, as they like these 25% more than one in the shell. They cache more in the morning and prefer to hide foods on deeply furrowed tree trunks and the underside of branches. Nuthatches are also known to hide seeds under a shingle or behind wooden siding.
Jays love to cache peanuts, sunflower seeds and acorns. They are especially fond of peanuts in the shell. They bury them in the ground and are known to cache about 100 in a day; emptying a feeder in no time. Watch for them make repeated trips to your feeders (or an oak tree) and fly off. They can travel up to two miles to bury their nutritious treasure.
The Season's Not-so-Lone Rangers
Remember the Lone Ranger? Ever notice how he wasn't really alone? He always had his trusty sidekick, Tonto at his side. Why? Because there is strength in numbers.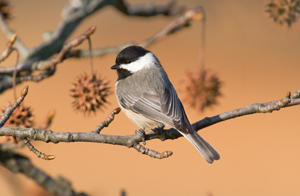 Well, there is strength in numbers in bird feeding, too.
During fall and winter, some nuthatches, titmice and chickadees search for food together in a "foraging guild."
This results in many eyes looking for 1) the now dwindling supply of natural food and 2) potential predators. Birds in the guild recognize each other's alarm calls. This lets the guild keep a collective watch for predators and allows the individual birds to concentrate more on finding food.
Fortunately, chickadees, nuthatches and titmice are some of the hobby's most adored feeder visitors. They're small and cute, their movements are quick and erratic, and though they're gone from feeders just as fast as they arrived, it's easy to be a big fan of these little birds.
Chickadees, nuthatches and titmice are also typically the first and easiest birds to attract to feeders in a wooded setting.
They have a mixed preference for sunflower (in and out of the shell), safflower and peanut pieces for caching (to retrieve and eat later), ingredients found in many of our exclusive seed blends, cylinders, Stackables®, Jim's Birdacious® Bark Butter® Bits and more.
Visit us soon and we'll make sure you have everything you need to see more of these not-so-Lone Rangers in your yard.
The Perfect Gift for Every Nature Lover

Every nature lover is different, so finding the ideal gift for him or her can be difficult. That's why our Gift Cards are the perfect gift for every occasion. They allow your friend or loved one to choose what part of nature he or she wants to enjoy. The best part: our Gift Cards are redeemable at every Wild Birds Unlimited location.
If you need to check the balance on your Wild Birds Unlimited Gift Card, click here.