Welcome to Wild Birds Unlimited Hanover, MA
Now Open at 10:00 on Sundays
I have a bald bird at my feeders - is something wrong?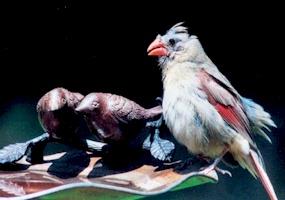 "Bald-headed birds" are often seen in late summer. Usually it is Blue Jays, Northern Cardinals or Common Grackles with a complete lack of feathers on their heads. While the rest of the bird's body looks normal, a completely bald bird certainly raises curiosity.
The most likely explanation for the baldness is an abnormal replacement of all the head feathers (molting) at the same time. Others may include environmental or nutritional factors, feather mites or lice.
There is also some anecdotal evidence that, in some cases, a simultaneous molt of all the head feathers may just be a normal occurrence for a very small percentage of individual birds.
Whatever the cause, bird banding studies show most birds recover from their period of baldness within a few weeks, and that birds recaptured in succeeding years often show no re-occurrence of this unusual molting behavior.
Natural Transitions
June is a month of transitions. It's even official. With the summer solstice in June, the transition from spring to summer will be certified, at least according to the calendar.

In the early part of the month, the dawn chorus of bird song is so loud as to wake you up, but it will no longer disturb your slumber as July approaches.

At night, lightening bugs increasingly brighten the darkness as the month progresses and the din of mosquitoes and squabbling juvenile raccoons will become almost inescapable.

Lakes and ponds continue to recede in stature and take on a blush of green as algae, duckweed and other wetland plants cover their surface.

The birds in your yard are making transitions, too. Nesting is in full swing early in the month and not so much by the end. As the weeks go by, more and more young birds make appearances at your feeders as they harass their parents for an easy meal.

The question of, "where are all of my hummingbirds" is finally answered as a new crop of youngsters leave the nest and descend on the feeders.

Even the birds' appearance starts to change. As the molting season begins to take hold, their once brilliant, well-groomed breeding plumage gives way to a messy, disheveled look.

Be sure keep your eyes and ears open during this month of transition, and visit us for the expert advice and quality hobby products you will need to weather all of the changes.
How to Create a Bird Feeding Station - Advanced Pole System® 2 Minute Challenge
The Perfect Gift for Every Nature Lover

Every nature lover is different, so finding the ideal gift for him or her can be difficult. That's why our Gift Cards are the perfect gift for every occasion. They allow your friend or loved one to choose what part of nature he or she wants to enjoy. The best part: our Gift Cards are redeemable at every Wild Birds Unlimited location.
If you need to check the balance on your Wild Birds Unlimited Gift Card, click here.