Welcome to Wild Birds Unlimited Hanover, MA
Bird-a-thon 2015
As supporters of the MA Audubon South Shore Sanctuaries I will be out birding with the South Shore team on May 15th and 16th to help raise much needed funds for their stewardship of our local sanctuaries. The North River, Daniel Webster and North Hill Marsh Sanctuaries are not only gems but are extremely important to local and migratory birds. The three sanctuaries provide varied habitats that are treasured by photographers, birders and nature lovers for their diverse wildlife and birds.
Please consider supporting me in the important fund raising event. Click here to visit my fund raising page.
It's a Sweet Month to Feed the Birds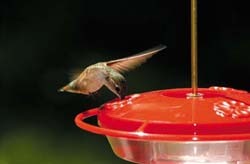 Spring migration is underway, and a countless number of birds are heading north to their nesting territories.
Fortunately, two of the hobby's favorite birds, hummingbirds and orioles, can be immediately attracted to feeders with nectar (and fruit and jelly for orioles), making it a sweet month to feed the birds.
Only 5% of all avian families include nectar as an important part of their diet, making hummingbirds and orioles part of a very exclusive dining club.
It only takes between 30 to 50 minutes for nectar to be digested, so hummingbirds must eat a lot and often. In fact, hummingbirds eat about every ten minutes and can drink up to twice their body weight in nectar every day.
However, no bird's diet is made up entirely of nectar. Nectar-eaters must also include other foods, usually insects, to obtain essential amino acids and other nutrients.
When orioles are not feeding on nectar or fruit, they forage for spiders, caterpillars and other insects. Hummingbirds spend more than 25% of their time foraging for arthropods, such as spiders.
You can attract hummingbirds and orioles to your feeders using slightly varying methods. Hummingbirds enjoy a nectar solution of four parts water to one part sugar. Orioles prefer a mix of six parts water to one part sugar, plus solid foods, like fresh orange slices, grape jelly and mealworms.
Watch Northern Migrations Online
Visit www.learner.org/jnorth/humm to monitor the northward migration of hummingbirds and www.learner.org/jnorth/oriole for an oriole migration map.
How Cool is That! - Hummingbirds
Celebrate Bird Moms with a Helping Hand
Celebrate Mother birds by making their lives a little easier. Provide them with safe, reliable homes and abundant, nutritious and easily obtained food sources.
Safe Homes
Invite Mom to raise a family along with yours by offering appropriate, safe and ready-to-use nest boxes. Well-constructed nest boxes provide more options and more protection from weather and predators than may be found naturally. Nest boxes are available for chickadees, wrens, bluebirds and more.
Nesting Nutrition
It may not seem like much, but having to shell every seed you eat can take time and energy. Moms need all the energy they can muster for building a quality nest, laying eggs and raising young. Blends without any shells offer a grab-and-go bite of quick energy.
Our No-Mess Plus Blend is packed with sunflower chips and chopped tree nuts, a great source of protein. Protein is essential for baby birds from the time they hatch until they are fully grown. This includes growing strong feathers which are made up of over 90% protein.
No-Mess Plus Blend also includes calcium, a mineral birds need during nesting season.
Mealworms attract common and uncommon insect-eating birds. They are a convenient protein-packed food. Offer them in a Dinner Bell™, SideDish™ Feeder or other smooth-sided tray feeders.
Jim's Birdacious® Bark Butter® Bits are packed with energy for quick grab-and-go bites with added calcium. The much needed calcium is attractive to egg-laying Moms as well as nestlings and fledglings.
The Perfect Gift for Every Nature Lover

Every nature lover is different, so finding the ideal gift for him or her can be difficult. That's why our Gift Cards are the perfect gift for every occasion. They allow your friend or loved one to choose what part of nature he or she wants to enjoy. The best part: our Gift Cards are redeemable at every Wild Birds Unlimited location.
If you need to check the balance on your Wild Birds Unlimited Gift Card, click here.