Welcome to Wild Birds Unlimited Hanover, MA
It's a Sweet Month to Feed the Birds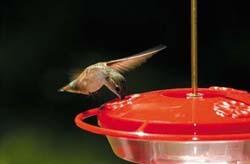 Spring migration is underway, and a countless number of birds are heading north to their nesting territories.
Fortunately, two of the hobby's favorite birds, hummingbirds and orioles, can be immediately attracted to feeders with nectar (and fruit and jelly for orioles), making it a sweet month to feed the birds.
Only 5% of all avian families include nectar as an important part of their diet, making hummingbirds and orioles part of a very exclusive dining club.
It only takes between 30 to 50 minutes for nectar to be digested, so hummingbirds must eat a lot and often. In fact, hummingbirds eat about every ten minutes and can drink up to twice their body weight in nectar every day.
However, no bird's diet is made up entirely of nectar. Nectar-eaters must also include other foods, usually insects, to obtain essential amino acids and other nutrients.
When orioles are not feeding on nectar or fruit, they forage for spiders, caterpillars and other insects. Hummingbirds spend more than 25% of their time foraging for arthropods, such as spiders.
You can attract hummingbirds and orioles to your feeders using slightly varying methods. Hummingbirds enjoy a nectar solution of four parts water to one part sugar. Orioles prefer a mix of six parts water to one part sugar, plus solid foods, like fresh orange slices, grape jelly and mealworms.
The Early Stages of a Bird's Life
There are numerous ways to help your adult and baby birds throughout nesting season.
Egg Stage

Offer calcium-added foods, such as WBU Plus Blends and WBU Calcium Care™ and PB&J No-melt Suet, to help promote stronger eggs and bones for mother birds and their babies.
Use thick-walled nesting boxes (wood: at least ¾" thick; recycled plastic: at least ½" thick) to help protect birds and their eggs from extreme outside temperatures.

Nestling Stage

Continue to offer calcium-added foods to help supplement or replace the calcium females lose during egg production.
Use a predator guard over the nesting box hole to help keep critters from disturbing your nesting birds. Most of our nesting boxes have built-in predator guards.
If you pole-mount your nesting box, be sure to place a raccoon baffle just below the box to keep squirrels, raccoons, cats and other animals away.

Fledgling Stage

Protein is essential for body and feather growth, so offer high-protein foods, such as mealworms, peanuts, Jim's Birdacious® Bark Butter® and Nutty for Nuts™.
Create brush piles that provide shelter for fledgling birds.
Provide a reliable source of water so fledglings can stay hydrated and keep their young feathers in top-flight condition.
Fun Facts About Hummingbirds
There are 18 hummingbird species in North America. Hummingbirds are found no where else in the world except the New World (North, Central, and South America.)
There are over 325 species of hummingbirds, making them the second largest bird family in the world, second only to flycatchers.
Hummingbirds weigh 1/10th of an ounce; about the weight of a penny.
Hummingbirds' brains are about the size of a BB.
Hummingbirds' hearts are larger proportionally to their body than any other bird or mammal.
Hummingbirds have such underdeveloped legs that they are unable to walk well.
A mother hummingbird weighs only about eight times more than her egg.
Hummingbirds lay the world's smallest bird egg.
Hummingbirds generally lay two eggs, each about the size of a blueberry.
Hummingbirds learn to associate flower colors, like red, with food. They do not have an innate preference for red.
They drink nectar from plants and sugar water from feeders.
Hummingbirds lap up nectar with their long tongues. There is a groove on either side of the tongue that creates a capillary action to help draw the nectar up the tongue and into the mouth during the lapping action.
While lapping up nectar, Hummingbirds can move their tongues in and out of their bill at a rate of up to 12 times a second.
WBU Hummingbird Feeders
Get the attention of one of nature's most mesmerizing creatures with our WBU Hummingbird Feeders. These specially designed feeders have a built-in ant moat that keeps bugs out, and feeding ports that prevent rain water from diluting the nectar solution.
They are easy to hang or pole-mount and easy to clean (it's top shelf dishwasher safe). These feeders are backed with a lifetime guarantee.
The Perfect Gift for Every Nature Lover

Every nature lover is different, so finding the ideal gift for him or her can be difficult. That's why our Gift Cards are the perfect gift for every occasion. They allow your friend or loved one to choose what part of nature he or she wants to enjoy. The best part: our Gift Cards are redeemable at every Wild Birds Unlimited location.
If you need to check the balance on your Wild Birds Unlimited Gift Card, click here.