Welcome to Wild Birds Unlimited Hanover, MA
Watch The Birds Pick The Right Seed!
Birds enjoy different types of seed, so it's important to get the right blend for the birds you want to attract. With Wild Birds Unlimited's custom seed blends, you can attract a variety of birds to your backyard feeders without wasting seed.
Watch as the birds pick and choose among the seeds to get just the right one! Chickadees and nuthatches will be particularly picky eaters. Studies have shown that these birds will weigh their seeds to make sure they get the heaviest one!
If you want to attract birds that feed at tube or hopper feeders, get a blend that contains the larger seeds, such as black oil sunflower, striped sunflower, sunflower chips and safflower, which these birds prefer. Our WBU Supreme Blend is perfect for these birds. If you want to attract a larger variety of birds including those that feed on the ground, try the WBU Deluxe Blend which includes white millet.
Our Certified Birdfeeding Specialists can help you choose the blend that's right for you, and show you the wide range of premium specialty seeds designed to attract specific species.
The Season's Not-so-Lone Rangers
Remember the Lone Ranger? Ever notice how he wasn't really alone? He always had his trusty sidekick, Tonto at his side. Why? Because there is strength in numbers.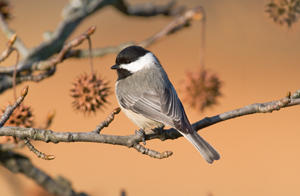 Well, there is strength in numbers in bird feeding, too.
During fall and winter, some nuthatches, titmice and chickadees search for food together in a "foraging guild."
This results in many eyes looking for 1) the now dwindling supply of natural food and 2) potential predators. Birds in the guild recognize each other's alarm calls. This lets the guild keep a collective watch for predators and allows the individual birds to concentrate more on finding food.
Fortunately, chickadees, nuthatches and titmice are some of the hobby's most adored feeder visitors. They're small and cute, their movements are quick and erratic, and though they're gone from feeders just as fast as they arrived, it's easy to be a big fan of these little birds.
Chickadees, nuthatches and titmice are also typically the first and easiest birds to attract to feeders in a wooded setting.
They have a mixed preference for sunflower (in and out of the shell), safflower and peanut pieces for caching (to retrieve and eat later), ingredients found in many of our exclusive seed blends, cylinders, Stackables®, Jim's Birdacious® Bark Butter® Bits and more.
Visit us soon and we'll make sure you have everything you need to see more of these not-so-Lone Rangers in your yard.
How Cool is That! - Chickadees
The Perfect Gift for Every Nature Lover

Every nature lover is different, so finding the ideal gift for him or her can be difficult. That's why our Gift Cards are the perfect gift for every occasion. They allow your friend or loved one to choose what part of nature he or she wants to enjoy. The best part: our Gift Cards are redeemable at every Wild Birds Unlimited location.
If you need to check the balance on your Wild Birds Unlimited Gift Card, click here.