Bark Butter
Now Every Tree is a Birdfeeder®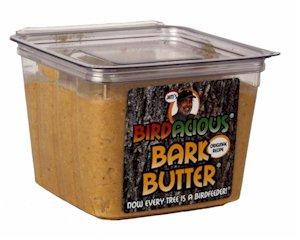 Jim Carpenter, an avid nature enthusiast and the founder and CEO of Wild Birds Unlimited, created Bark Butter over 20 years ago and used it to attract Brown Creepers.
However, through the years Jim discovered that it attracts more than 95 species of birds including thrushes, warblers, thrashers, orioles, catbirds, cardinals, mockingbirds, wrens, woodpeckers, juncos, towhees, grosbeaks, robins and more.
See the current bird list.
Stop by our store and pick up a tub of your own.
Bark Butter Plugs
Here's another way to offer Jim's Birdacious® Bark Butter®, the food that has attracted more than 100 different bird species. Bark Butter Plugs feature added calcium to help promote stronger bones. Place Bark Butter Plugs in a suet cage or an EcoTough Log Suet Feeder, or crumble them and use them as a treat on the Jim's Birdacious Treat Tray™ to attract a variety of birds.